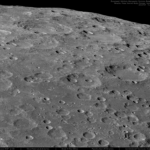 Italiano:
Un'altra immagine lunare, ripresa il primo dell'anno, centrata sul bordo sudorientale della Luna che durante la ricerca di dettagli lunari da filmare mi è parsa subito come una visione da "navicella in avvicinamento", molto affascinante con le asperità tipiche del nostro satellite naturale.
Visibili vari crateri tra i quali, tra i più cospicui, è il cratere "Boussingault" (visibile in alto a sinistra della mia foto) con un diametro di 128 Km. ed un fondo che si trova a circa 3.200 metri di profondità dal bordo esterno.  Boussingault è un grande cratere da impatto lunare che,  a causa della sua posizione, appare di forma molto ellittica a causa della prospettiva del nostro punto di vista terrestre.  A sud-ovest c'è il cratere "Boguslawsky" e, quasi attaccato al bordo nord-est, si trova il cretare "Helmholtz", mentre  a est-sud-est di Boussingault si trova l'altro cratere "Neumayer".
L'aspetto più evidente e affascinante, dal mio punto di vista, del cratere Bossingault è il secondo grande cratere che si trova interamente all'interno delle pareti esterne di quello più grande, in modo da apparire come una formazione a doppia parete e, appunto per questo, viene definito "cratere concentrico".
Dettagli tecnici:
Telescopio Astrofaktorja DK20″ @ ~ F/27 – Player One Saturn M camera – Televue Powermate Barlow 2x – Baader R filter – Seeing ~ 7/10 (max.) in R band – sito: Palermo @ my personal Observatory.
***************************************************************************************************
English:
Another lunar image, taken on New Year's Day, centered on the south-eastern edge of the Moon which, during the search for lunar details to film, immediately seemed to me like an "approaching spacecraft" vision, very fascinating with the typical roughness of our natural satellite.
Various craters visible, among which, among the most conspicuous, is the "Boussingault" crater (visible at the top left of my photo) with a diameter of 128 km and a floor that is about 3,200 meters deep from the outer edge.
Boussingault is a large lunar impact crater which, due to its location, appears very elliptical in shape due to the perspective of our terrestrial point of view.
To the south-west is the "Boguslawsky" crater and, almost attached to the north-east rim, is the "Helmholtz" crater, while to the east-south-east of Boussingault is the other crater "Neumayer".
The most evident and fascinating aspect, from my point of view, of the Bossingault crater is the second large crater which lies entirely within the outer walls of the larger one, so as to appear as a double-walled formation and, precisely for this is called a "concentric crater".
Technical details:
Telescope Astrofaktorja DK20″ @ ~ F/27 – Player One Saturn M camera – Televue Powermate Barlow 2x – Baader R filter – Seeing ~ 7/10 (max.) in R band – site: Palermo @ my personal Observatory.