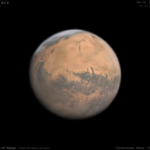 Italiano  (English below):
Un'altra ripresa di Marte effettuata il 02 gennaio, quindi giorno successivo alla precedente del 1° dell'anno (v. link: https://www.carmelozannelli.com/site/?p=3034 ), con un diametro apparente angolare di 14,4″ d'arco – sempre più in allontanamento dalla Terra -, mostra all'incirca gli stessi dettagli morfologici della precedente tranne che la zona denominata "Syrtis Major" con la "Valles Marineris" che è da poco sorta (dal nostro punto di vista terrestre) sulla sinistra del pianeta.
Il colore più scuro è dovuto alla roccia basaltica vulcanica e alle quantità relativamente ridotte di polvere, rispetto alle altre zone.
Dettagli Tecnici:
Telescopio Astrofaktorja  DK20″ @ ~ F/28  –  Televue 2″ PowerMate Barlow 2x  –  Baader RGB filters – Player One Saturn M camera – Seeing 6,5/10 in R band – sito: Palermo @ my personal Observatory
***********************************************************************************************
English:
Another shot of Mars taken on 02 January, therefore the day following the previous one on the 1st of the year (see link: https://www.carmelozannelli.com/site/?p=3034 ), shows roughly the same morphological details of the previous image, except for the area called "Syrtis Major" with the "Valles Marineris" which has recently arisen (from our terrestrial point of view) on the left of the planet.
The darker color is due to the volcanic basalt rock and the relatively large quantities reduced dust, compared to other areas.
Technical details:
Telescope Astrofaktorja DK20″ @ ~ F/28 – Televue 2″ PowerMate Barlow 2x – Baader RGB filters – Player One Saturn M camera – Seeing 6,5/10 in R band – site: Palermo @ my personal Observatory