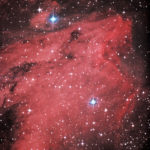 Italian:
E' con piacere che presento una ripresa deep-sky della nebulosa Pellicano (IC 5070), nella costellazione del Cigno, frutto della collaborazione con l'amico Mario Luriano, astrofilo veramente in gamba benché molto giovane, che ha messo a disposizione il suo telescopio newton Skywatcher 200mm ad F/4 allo Star-Party siciliano dello scorso luglio, sulle Madonìe. Lo ringrazio anche per avermi dato lo stimolo a ricominciare con le riprese del cielo profondo.. – grazie caro Mario! – .
La nebulosa Pellicano, è una regione HII (Idrogeno Ionizzato) visibile nella costellazione del Cigno vicino a Deneb (la sua stella più brillante, nella coda del Cigno) appartenente alla stessa nube molecolare della vicina Nebulosa Nord America (NGC7000) e la sua distanza è stimata attorno ai 1956 anni luce.
Al suo interno sono attivi fenomeni di formazione stellare, come testimoniato specialmente dalla presenza di oggetti HH riguardanti principalmente stelle di piccola e media massa. A causa delle forti dinamiche dei suoi gas, la nebulosa varierà forma relativamente in fretta (in tempi astronomici).
La nebulosa ricorda il profilo di un pellicano, a causa di una nebulosa oscura che segna il bordo settentrionale dell'oggetto, facendolo così rassomigliare ad un becco del citato volatile.
La foto è frutto della somma totale di 8 scatti da 5 minuti ed 1 scatto da 10 min. ad 800 ISO; non può certamente essere il top della qualità per rapporto S/N, tuttavia il risultato ci incoraggia!
Dettagli tecnici:
Telescopio Newton Skywatcher 200/800 (F/4); Correttore di Coma Baader MkIII; Canon EOS 760D mod. Astrodon; Filtro Hutech IDAS LPS-D1; camera Guida ASI 178MM su rifrattore 80/400; Somma di 8 pose da 5′ + 1 posa da 10′ ad ISO 800.
Dedicata al mio compianto caro amico Giorgio Puglia, cui tanto piacevano le riprese deep-sky e con il quale ho condiviso, dagli anni '80 del secolo scorso fin quasi la sua scomparsa, innumerevoli notti passate all'addiaccio a caccia di tali oggetti di tutte le caratteristiche. Ciao Giorgio!
Ad maiora semper …!  😉
English:
It's my pleasure to present a deep-sky image of the Pelican Nebula (IC 5070) in the Swan constellation, an image taken in collaboration with my friend Mario Luriano, a really astonishing though very young, amateur stronomer who has made available his newtonian telescope, a Skywatcher 200mm F/4.
I say "thank you" to him also for giving me the urge to restart over with the shooting of the deep sky images .. – thanks dear Mario! -.