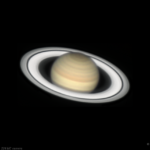 Italian (for English please read further down):
In attesa di trovare il tempo libero per elaborare i numerosissimi filmati monocromatici acquisiti con la mia solita tecnica, vi presento la mia prima ripresa di Saturno di quest'anno – il 13 giugno scorso -, due giorni prima dell'opposizione (il massimo avvicinamento alla Terra), in condizioni di visibilità discrete, almeno per le nostre latitudini.
Questa è una ripresa di test durante l'allineamento del correttore di dispersione atmosferica (ADC), tramite la camera a colori adatta allo scopo – una ZWO ASI224-MC -, dove lo shift delle lunghezze d'onda dovuto alla rifrazione atmosferica a causa della scarsa altezza di Saturno dall'orizzonte in questi anni (attualmente si trova nella costellazione dello Scorpione), viene parzialmente compensato dalla configurazione dei due prismi del citato ADC.
Nessun particolare saliente è visibile nell'atmosfera del pianeta tranne la Zona Polare Sud (SPC), con la sua rinomata forma "esagonale", nonché la massima brillantezza degli anelli, dovuta alla massima superficie riflettente visibile dal punto di vista terrestre (effetto Seeliger).
Dettagli tecnici:
Celestron C14 StarBright ad F/27 – Baader-Zeiss barlow lens – ZWO ASI224-MC camera – Seeing 6/10 in color light – sito: Palermo centro @ my personal Observatory
English:
Waiting to find my freetime to process the many monochrome movies captured with my usual monochrome camera, here my first shot of Saturn this year, two days before the opposition, under pretty fair seeing conditions, at least for our latitudes.
This is a test imaging during alignment of my ZWO ADC, through the color camera – (ZWO ASI224-MC).
Saturn's height in these years (currently in the constellation of Scorpio) is partially offset by configuration of the mentioned ADC.
No particular detail is visible in the atmosphere of the planet, except the South Polar Zone with its famous hexagonal shape, as well as the highest brilliance of the rings, due to the maximum reflective surface visible from the earth's point of view (Seeliger effect).
Technical details:
Celestron C14 StarBright ad F/27 – Baader-Zeiss barlow lens – ZWO ASI224-MC camera – Seeing 6/10 in color imaging – site: Palermo city @ my personal Observatory