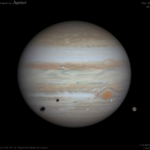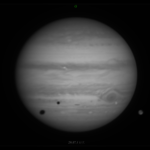 [R-G-B channels Original Size]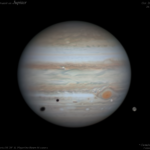 Italiano:
La sera del 26 ottobre 2022, un bellissimo fenomeno astronomico è avvenuto nel cielo notturno: il doppio transito di Ganimede ed Europa, due dei 4 satelliti galileiani, sul disco di Giove.
Il transito (prospettico, dal nostro punto di vista terrestre) dei due satelliti gioviani è completato con lo stesso transito, a distanza di diversi minuti dal loro ingresso davanti Giove, delle loro rispettive ombre.
Per gli appassionati, ma anche per i semplici curiosi, è stato uno spettacolo da non perdere!
Le loro ombre all'ingresso prospettico davanti il pianeta gigante, appaiono estremamente allungate per effetto della sfericità del globo Gioviano, ma man mano che transitano e si avvicinano al centro del pianeta, ritornano alla loro forma sferica, per poi allungarsi nuovamente mentre si avvicinano al bordo opposto, in uscita. Inoltre esse appaiono nere come il cielo profondo notturno, contrastando enormemente con la superfice gassosa del pianeta gigante e, proprio per questo, risultando visibili agevolmente anche a piccoli telescopi.
Il bellissimo spettacolo è stato completato dalla contemporanea presenza della Grande Macchia Rossa di Giove, l'enorme uragano che imperversa sul pianeta da centinaia di anni, anche se negli ultimi tempi il suo diametro si è ridotto di molto fino a giungere, allo stato attuale, alla sua minima grandezza a memoria d'uomo.
Grazie per la Vostra attenzione e…. ad maiora semper!
Dettagli tecnici:
Telescopio Astgrofaktoria Dall-Kirkham 20″ ad F/35 – SvBony 2x – Baader RGB filters – Player One Saturn M camera – Seeing 6/10 nella lunghezza d'onda del colore Rosso – sito: Palermo @ my personal Observatory.
************************************************************************************************************************************
English:
On the evening of October 26 – 2022, a beautiful astronomical phenomenon took place in the night sky: the double transit of Ganymede and Europa, two of the 4 Galilean satellites, on the disk of Jupiter.
The transit (perspectively, from our terrestrial point of view) of the two Jupiter satellites is completed with the same transit, several minutes after their entry in front of, of their respective shadows.
For enthusiasts, but also for the simple curious, it was a show not to be missed!
The shadows of the two satellites, black like the deep night sky, contrast enormously with the sharp gas surface of the giant planet and are easily visible even to small telescopes and at the perspective entrance over Jupiter, appear extremely elongated due to the sphericity of the Jupiter globe, but as they pass and approach the center of the giant planet, they return to their spherical shape, and then lengthen again as they approach the opposite edge , output.
The beautiful show was completed by the simultaneous presence of the Great Red Spot of Jupiter, the huge hurricane that has been raging on the planet for hundreds of years, even if in recent times its diameter has been greatly reduced until it reaches, at present, to its smallest size in living memory.
Thank you for your attention and … ad maiora semper!
Technical details:
Astrofaktoria Dall-Kirkham 20″ telescope @ F/35 – SvBony 2x Barlow lens – Baader RGB filters – Player One Saturn M camera – Seeing 6/10 in Reg band – site: Palermo @ my personal Observatory.