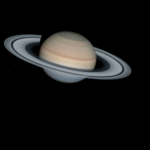 "Family portrait":
Italiano:
La notte del 22 Ottobre scorso, complici una serie di giornate meteorologicamente serene, ho effettuato una sessione di riprese sui pianeti giganti Giove e Saturno, sul secondo dei quali ho effettuato, per motivi tecnici di prova del setup,  dei filmati al solo fuoco diretto del telescopio principale Dall-Kirkham da 20″, quindi a circa 6200mm. di focale ad F/12.
Il seeing era abbastanza calmo, tale da mostrarmi un bel "quadretto familiare" su Saturno insieme ad i suoi 4 più vicini satelliti naturali:  Tethys, Dione, Rhea (in basso alla destra) ed Enceladus (in basso a sinistra degli anelli di Saturno).
Benché la fotografia sia un'immagine oggettiva e bella a vedersi, l'emozione e la bellezza della visione diretta, all'oculare del telescopio, è una esperienza talmente bella che ti resta scolpita nella mente, soprattutto con telescopi di grosso diametro come il 51cm planetario che uso nel mio osservatorio.
Dettagli tecnici:
Telescopio Astrofaktoria  DK20″ @ ~ F/12  –   Player One Saturn M camera – Baader RGB filters – Seeing ~ 6,5/10 in R band – sito: Palermo @ my personal Observatory.
*********************************************************************************************
English:
On the night of last October 22th, thanks to a series of meteorologically clear days, I carried out a shooting session on the giant planets Jupiter and Saturn, on the second of which I took at prime focus of my Dall-Kirkham 20″ telescope (about 6200mm of focal length at F/12).
The seeing was good enough to show me a nice "familiar picture" of Saturn along with its 4 closest natural satellites:  Tethys, Dione, Rhea (bottom right) and Enceladus (in bottom left of Saturn's rings).
Although photography is an objective and beautiful image, the emotion and beauty of direct vision, through the eyepiece of the telescope, is such a beautiful experience that it remains engraved in your mind, especially with large diameter telescopes such as a 51cm planetary one.
Technical details:
Astrofaktoria Telescope DK20 "@ ~ F/12 – PlayerOne Saturn M camera – Baader RGB filters – Seeing ~ 6,5/10 in R band – site: Palermo @ my personal Observatory.