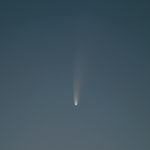 300 mm @ [Original Size]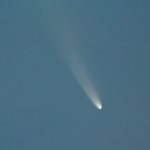 600 mm @ [Original Size]
Italiano:
L'oggetto più famoso ed immortalato del momento, la cometa C/2020-F3 NEOWISE, ripresa all'alba di questa mattina 08 luglio 2020, alle ore 4:21 locali, con il mio piccolo telescopio newton da 150mm ad F/4.
Aggiungo anche, a posteriori, una ripresa effettuata subito dopo col Teleobiettivo Canon 300 F4-L, somma di 10 scatti da 5″ ad ISO 800.
La cometa Neowise, è una cometa con un'orbita quasi parabolica scoperta il 27 marzo 2020 dal telescopio spaziale NEOWISE (da cui prende il nome). Attualmente visibile ad occhio nudo in direzione NE, molto bassa all'orizzonte, è passata al perielio (il punto più vicino al Sole) il 3 luglio 2020 e, se continuerà a sopravvivere al passaggio così ravvicinato al calore del Sole (circa 0,29 UA da esso), dovrebbe restare visibile per quasi tutto il mese di luglio, senza il bisogno di un ausilio ottico.  Essa sarà più facilmente visibile al tramonto, subito dopo il calar del Sole, a partire circa dal 15 luglio e fino a quando, allontanandosi sempre più dal Sole, perderà la sua luminosità fino a divenire un oggetto telescopico sempre più debole.
E' chiaramente visibile, anche ad occhio nudo, la sua bellissima duplice coda che in visione telescopica si sdoppia in due componenti, la più evidente delle quali è formata da polveri cometarie (di colore bianco/giallo) e la più debole dai getti di gas ionizzati della cometa (di colore blu, molto meno evidenti in questa mia ripresa).
Faccio notare quanto la cometa si sposti velocemente, poiché basta confrontare le tre stelline alla sinistra del nucleo cometario presenti in entrambe le immagini, per capire quanto la cometa si sia spostata velocemente, in soli 21 minuti trascorsi tra le due foto.
Ad maiora semper!
Dettagli tecnici:
Per l'immagine più ingrandita > Telescopio Newton da 150mm di obiettivo ad F/4, somma di 18 pose non guidate da 10″ ad ISO 800 su Canon EOS760D modificata, Filtro Optolong L-Pro, correttore di coma Baader MKIII, sito: Palermo (ITALY) @ my Observatory
Per l'immagine più piccola >  Teleobiettivo Canon 300mm F4, somma di 10 pose non guidate da 5″ ad ISO 800 su Canon EOS100D, Filtro IDAS LPS-D1,  sito: Palermo (ITALY) @ my Observatory
********************************************************************************************************
English:
The most famous and photographed object of the moment, the C/2020-F3 NEOWISE comet, captured at dawn of this morning (july, 08th 2020) at 4:21 local time, with my small 150mm F/4 newtonian telescope.
The Neowise is a comet with an almost parabolic orbit ,discovered on March 27 – 2020 by the NEOWISE space telescope (from which it takes its name). Currently visible to the naked eye in the NE direction, very low on the horizon, it passed to perihelion (the point closest to the Sun) on July, 3rd 2020 and, if it continues to survive the passage so close to the heat of the Sun (about 0.29 UA from it), should remain visible for almost the entire month of July, without the need for an optical aid. It will be more easily visible at sunset, immediately after sunset, starting around July 15th and until, moving further and further away from the Sun, it will lose its brightness until it becomes an increasingly weak telescopic object.
It's  clearly visible, even with the naked eye, its beautiful double tail which in telescopic vision splits into two components, the most evident of which is formed by cometary dust (white/yellow color) and the weakest by gas jets of the comet (blue in color, much less evident in this shot of mine).
I point out how quickly the comet moves, since it is enough to compare the three little stars to the left of the comet nucleus present in both images, to understand how quickly the comet has moved, in just 21 minutes between the two photos.
So, friends…. ad maiora semper!
Technical details:
For more detailed image > 150mm Newtonian telescope @ F/4,  n. 18 total stacked images of 10″ unguided exposures, ISO 800 on Canon EOS760D Astrodon modified, Optolong L-Pro filter, Baader MkIII coma corrector, site: Palermo (ITALY) @ my Observatory
For less detailed image >  Canon 300mm F4 telephoto lens, n. 10 total stacked images of 5″ unguided exposures, ISO 800 on Canon EOS100D, IDAS LPS-D1 filter, site: Palermo (ITALY) @ my Observatory