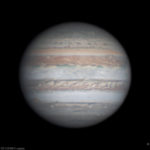 Italian (for English, please read further down):
Ecco l'ultima ripresa di Giove dello scorso 4 giugno, in condizioni sufficienti di seeing, malgrado il continuo passaggio di alte velature di nubi che hanno reso arduo non tanto di carpire i minuti dettagli, quanto avere un contrasto e una dinamica accettabili nell'immagine finale.
L'ovale BA (Oval BA), di un colore aranciato evidente, sorge sulla sinistra. Storicamente, fino al marzo del 2000 le strutture più importanti ospitate nella Banda Temperata Meridionale (South Temperate Belt) erano gli ovali bianchi BC, DE ed FA (WOS – White Oval Spots), che hanno manifestato una lunga durata – formatisi alla fine degli anni '30 del secolo scorso –  prima di fondersi nell'odierno Ovale BA detto anche Piccola Macchia Rossa (Red Spot Junior).
Il pianeta gigante, anche se ancora molto evidente in prima serata, è avviato ormai alla congiunzione col Sole, che avverrà il 26 ottobre 2017.
Dettagli tecnici:   Celestron C14 StarBright ad F/27 – Baader-Zeiss barlow lens – Baader RGB filter set – PointGrey GS3-U3-32S4M-C camera – Seeing 6/10
in R band (610nm) – sito: Palermo centro @ my personal Observatory
English:
Here's my last shot of Jupiter on June 4th, in sufficient conditions of seeing, despite the continuous passing of high cloudy clouds that made it difficult not only do not overwhelm the minute details, but to have a contrast and an acceptable dynamics in the final image.
The Oval BA, of an obvious orange color, rises on the left. Historically about its origin, until March 2000, the most important structures in the South Temperate Belt were the oval white BC, DE and FA (WOS – White Oval Spots), which had a long lasting effect – formed at the end of the years '30 of the last century – before merging into today's Oval BA, also known as Little Red Spot.
The giant planet, though still very obvious at first night, is  starting to join the Sun, which will do in solar conjunction on October 26, 2017.
Technical details:  Celestron C14 StarBright ad F/27 – Baader-Zeiss barlow lens – Baader RGB filter set – PointGrey GS3-U3-32S4M-C camera – Seeing 6/10 in R band (610nm) – sito: Palermo centro @ my personal Observatory