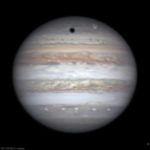 Italiano (for English please read further down):
Malgrado le belle e soleggiate giornate di aprile, i costanti venti in quota in questo periodo non mi hanno fin'ora consentito di ottenere immagini con risoluzioni più spinte e dettagli netti.
Questa mia immagine gioviana mostra il pianeta con il suo maggiore satellite "Ganimede" e relativa ombra proiettata, che si stagliano sul globo nella zona nord del pianeta (in questa immagine il Nord è in alto) in transito davanti al gigante gassoso.
Malgrado la visibilità non ottimale, alcuni dettagli sono presenti sul disco di Ganimede, tra cui la antichissima (circa 4 mld di anni) zona scura in alto a destra – la "Galileo Regio" – e quella chiara in basso caratterizzata da zone da impatto in "Mummu Sulci".
Sul gigante gassoso invece, Possiamo notare le agitate Bande Equatoriali Nord e Sud con una serie di evidenti "outbreak" e due macchie di color rosso scuro (chiamate Dark Red Spots) all'interno della SEB (Banda Equatoriale Sud) sulla parte destra della stessa e volgenti al tramonto, mentre il cosidetto "STB Ghost" sta anch'esso volgendo al tramonto prospettico, dal nostro punto di vista terrestre, sul lato destro dell'immagine nella zona più chiara ed apparentemente più tranquilla di questo lato del pianeta.
In attesa di seeing migliori vi saluto e ringrazio, come sempre, per la vostra gentile attenzione e… alla prossima immagine.
P.S.: grazie all'amico Stefano Quaresima per l'info sul passaggio di Ganimede sul disco di Giove!
Dettagli tecnici:     Celestron C14 StarBright ad F/27 – Baader-Zeiss barlow lens – Baader RGB filter set – PointGrey GS3-U3-32S4M-C camera – Seeing 6/10
in R band – sito: Palermo centro @ my personal Observatory

English:
Despite the beautiful and sunny days of April in Palermo city, the constant high altitude winds up my observatory site haven't allowed me to get images with more resolution and clear details at this time.
This Jovian image shows the planet with its largest satellite "Ganymede" and its projected shadow, which glide on the globe in the north of the planet (in this image North is up) in transit in front of the giant planet.
Despite the not optimal visibility, some details are visible on Ganimede's disc, including the ancient (about 4 billion years old) dark upper-right area, the "Galileo Regio", and the clear lower one feature – the impact zones of "Mummu Sulci".
On Jupiter, however, we can see the disturbed North and South Equatorial Belts with a series of obvious "outbreaks" and two dark red spots within the SEB (South Equatorial Belt) on the right side of the band and going at sunset, while the "STB Ghost" feature is also turning to the sunset from our terrestrial perspective on the right side of the image, in the lighter zone on the seemingly quieter side of this side of the planet.
Looking forward to best seeing, I greet you, for your attention and …  ad maiora semper!
P.S .: thanks to my friend Stefano Quaresima for information on the passage of Ganymede on Jupiter's disc!
Technical details:     Celestron C14 StarBright to F/27 – Baader-Zeiss Barlow lens – Baader RGB filter set – PointGrey GS3-U3-32S4M-C camera – Seeing 6/10 in R band –  site: Palermo city @ my personal Observatory.